So many ways to use an old ladder. Sharing the best, and unique ways to repurpose an old wooden ladder in your decor. From bookshelves to side tables and planting bends, and so many more.
Blogging definitely has sparked a few "wants" in my life. And today's ladder inspiration post is a prime example of that. I want more ladders in my life. All the creative minds out there have taught me just how versatile a vintage ladder can be.
I had fun putting together these 41 creative ideas for decorating with ladders. I hope you'll have fun too when you are looking through them.
How do you decorate an old wooden ladder
There are so many different ways that an old ladder can come in handy in decorating. A vintage ladder brings rustic charm with a farmhouse flair. You can stand them up and use them for displaying things, you can hang a ladder on the ceiling for off the ground decorating and with a slight bit of DIY, you can repurpose a ladder into shelves or tables.
Ladders come in various sizes and shapes and each style of ladder has its own unique uses. Small ladders like step ladders are great for turning into a side table, while a double ladder can be used as a bookshelf. Old farmhouse ladders look great when they hang on a ceiling in a kitchen. But let me stop now telling you what to do with an old wooden ladder and instead start showing you.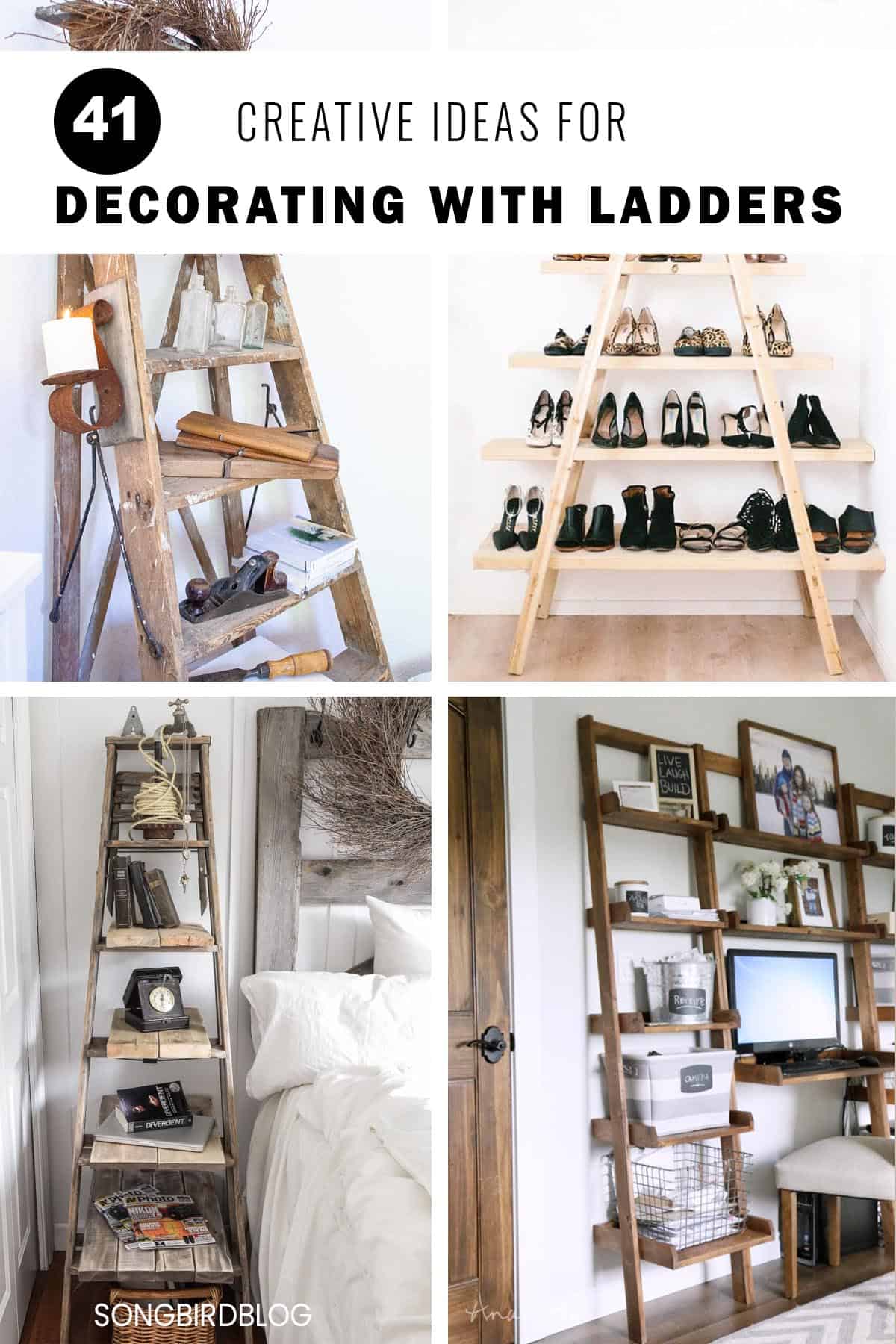 Here are my favorite ways to repurpose and upcycle an old wooden ladder into a decorating accessory.
Ladder Shelves Decorating Ideas
Ladder rungs are perfect little shelves for storing books, showing off flowers and displaying decorative knickknacks. Depending on what you want to do you can use your ladder as is and turn it into decorative shelving by simply giving it a nice place in your living room, or hang it sideways for a the perfect bookshelf on your wall.
Enjoy these ideas for using your ladder as a shelf.
Doesn't this ladder from Dreamy Whites not look beautiful. I love the mason jars and vintage bottles on the ladder. What a great place for showing off some flowers.
When you can find the perfect ladders you can create this wonderful office organization unit. Two double ladders and a lot of old boards are turned into a super functional and fun bookcase for the office.
If you have got lots of ladders and lots of courage you could make these Crazy Ladder Hack Bookshelves. I love the quirkiness of this project so much.
Who said a ladder has to stand up straight? This Horizontal Ladder Bookshelf shows us how you can use your ladder as a bookshelf over your couch. I love that it works around the corner too.
It took a bit of DIY to turn an old ladder into such useful Display Shelves. Lots of room for decorations on this leaning ladder.
Hanging Ladder Decorating Ideas
When you hang a ladder from the ceiling you have instant storage space for all kinds of things that need to be out of the way. And it looks good too. Hang your pots and pans in the kitchen, your herbs in your garden shed, or your drying clothes in the laundry room.
Look at how pretty these hanging ladders look.
A vintage ladder in the kitchen makes a perfect pot rack (image by A Beach Cottage). Super functional and pretty too.
This small ladder suspended from the ceiling turns out to be a lovely spot for some flower decorations in this romantic style kitchen. It shows that old ladders work with every decorating style, loving this Romantic Kitchen Display.
If you have got a covered porch or patio, a hanging ladder is a perfect way to add some lighting above your table. How fun is this idea to use a ladder to hang candles and lanterns over an outdoor table: Patio Ladder.
You can use a ladder in every room. If your laundry room is small hanging a ladder might just be the thing to create a bit more space. So if you need more room to dry clothes go for this Laundry Room Ladder.
So many creative ways to use a ladder. Look at this idea for using the space above a doorway. This kitchen hanging ladder closes the gap between two cupboards. Brilliant.
Organizing Ideas with Old Ladders
Aren't we all always looking for more ideas for organizing our home? Well, I know I am. That's why I love the idea to use ladders for creating storage space. Who would have thought a ladder is just perfect for hanging scarves, necklaces, or shoes with high heels.
Check out these ladder organizing ideas.
This leaning ladder in the bedroom double functions as shoe storage and storing fashion accessories. By carefully curating the items on the ladder it has become a decoration in and of itself. Great execution this Shoe Rack.
When you have tiny clothes to store a ladder is a perfect idea for a closet. Look how cute this ladder looks in a child's room: Nursery Ladder.
Looking for a place to store some toiletries? Why not hang wire baskets on the rungs and do some bathroom organizing with a ladder.
this diy ladder shoe shelf is so pretty. Doesn't look too complicated to make.
Thank you Anna White for the tutorial and building plans to built this ladder home office organizer. It looks both beautiful and super functional.
More creative decorating ideas for you
<<<< How to decorate with wooden crates >>>>
<<<< How to decorate with old books >>>>
<<<< How to decorate with vintage crochet blankets >>>>
Blanket Ladder Decorating Ideas
A simple leaning ladder is a great place to store throw blankets. But a blanket ladder can be the perfect place to hang so many things other than blankets. I love the ideas to use it for tea towels, showing off vintage linens or using it one in the bathroom for towels.
Please be inspired by these ideas for decorating with blanket ladders.
There is nothing wrong with using a blanket ladder for storing blankets. Especially when you have a beautiful collection of throws to show off on a modern blanket ladder.
I love this idea for a ladder as extra bathroom storage for extra towels. This towel holder ladder adds function and beauty at the same time.
When you have a beautiful collection of vintage linens and the perfect old wooden ladder then by all means combine the too. French Lankspur shows us how it is done.
This farmhouse old wooden ladder decorating idea is so pretty. The colors of the painted ladder and the vintage towels are so lovely together. This kitchen towel ladder storage is among my favorites of them all.
If you are up to a bit of woodworking then you'll love this tutorial to build your own DIY blanket ladder. It's a new build with an old wood look. Wonderful!
Vintage Double Ladder Decorating Ideas
A double ladder provides a whole new set of possibilities. A double ladder can be freestanding and when fully extended the ladder rungs are horizontal. This makes it easy to use in various ways. The fact that there are not only full size double ladders but also small stepladders opens up a whole new set of possibilities.
One vintage double ladder in a corner of a bedroom is styled three different ways. Whether you like the industrial look, prefer a coastal vibe, or maybe you are looking for a romantic cottage look. See how to decorate one ladder in three ways.
This half ladder is turned into a perfect plant stand that would look good in any kind of urban jungle.
How wonderful is this double ladder plant stand in a conservatory? By adding some boards to the ladder it is now the perfect place to store lots of plants and seedlings.
You are lucky when you find a mini ladder cause it makes the perfect Ladder Side Table. This small ladder is just perfect as it is in all its vintage glory.
If you can't find an old ladder to use as a plant shelf then why not build your own. Find the instructions to DIY double ladder planter in the link.
Home decorating with wooden ladders
Ladders can be useful for storing all kinds of things, but they are also great for displaying home decorating accessories, adding architectural interest to a room or for providing a spot to hang wreaths, lights or picture frames.
Let's turn our ladders into decorations.
How fun is it to do some spring decorating on a vintage ladder. This ladder with green plants and decorative items is a great seasonal display.
Sure there is room for a ladder in the bedroom, look at this Ladder Canopy. If you ever wanted to have a bed fit for a king then this is the way to hang curtains around your bed.
Any dark corner in your home can become cozy instantly with an extra string of lights. Drape some Christmas lights over a ladder and you are doing winter home decorating with a blanket ladder.
This rustic ladder side table is so pretty. Who wouldn't want such a lovely display and functional bedside table in their room?
This farmhouse-style decorated leaning ladder with flower buckets is so pretty. I love the combination of the rustic ladder and the painted buckets. And how easy is it to change these decorations every season?
Old Wooden Ladder Garden Ideas
A small step ladder becomes an adorable flower and plant stand in the garden.
How adorable are these birdhouses on old wooden ladders. This is my kind of garden creativity: Birdhouse Ladders.
When you can display your pretties on a ladder inside, then what not use a ladder for garden decorations as well?
What a wonderful use for a ladder in the garden shed a herb drying rack.
Quick, fun, and easy. Turn your ladder into a raised garden bed for your Herb Garden.
Christmas Decorating Ideas with Ladders
Well, this wouldn't be a proper decorating blog roundup if I didn't include some ideas for using ladders for Christmas decorating. From hanging your garland and wreath, turning it into an Advent calendar, or replacing your Christmas tree, a ladder is perfect for the Holiday season.
How original is this way to hang a ladder for showing off your garland and wreath in your home? I love the look of this hanging Christmas ladder.
Christmas stockings and a big luscious wreath. How perfect is this look? I love this Christmas Ladder Decor, for sure.
Lots of little numbered buckets in red and white on a vintage ladder. What a fun vintage ladder Advent calendar.
If you ain't got room for a Christmas tree…… use a ladder Ladder Christmas Tree.
Another fun and easy Advent calendar ladder idea. Hang little handmade bags on the rungs of the ladder and make someone happy for 24 days.
Brighting up a dark corner in your home this Holiday season. Lots of lights and beach accessories make for a perfect coastal Christmas ladder.
I hope you have enjoyed all my 41 ladder decorating ideas. What is your favorite way to use a ladder? And do you prefer old, vintage ladders or are you a modern ladder aficionado?
Marianne Songbird is the founder of Songbird, where she hopes to inspire everyone to create a home they love, one DIY project at a time. She shares anything from craft ideas to home decor inspiration and from DIY projects to decorating hacks. Originally from the Netherlands Marianne and her husband Lex are currently renovating a 250-year-old farmhouse in Germany.